Left: Ma Yueh Liang in "Wave Hands Like Clouds" (Slow Set)
Right: Wu Style's "Cloud Hands" (Fast Set)
These two applications present a clear contrast of Wu's Slow and Fast Sets. The Slow Set relies on centripetal energy to neutralize and both intercept and redirect the opponent's aggression, while the Fast Set, Wu Style's original form, applies centrifugal energy to both counter and alter the opponent's centerline like a centrifuge. Both approaches engage the opponent's dynamics with lightness and sensitivity, maintain contact, and exploit weaknesses in the opponent's situation, which are cultivated over time from the practice and application of T'ai Chi's Pushing Hands.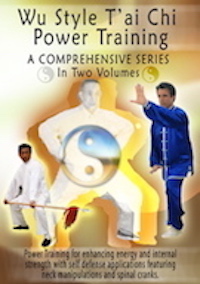 Explore Ma Yueh Liang and Wu Ying Hua, Chi Kung (Qigong), , and a Biography of Jiang Rong Qiao