What is Chi?
One engineer that grew up in Taiwan and studied Yang style T'ai Chi with the Dong family said that "Chi" is a term so widely applied in Chinese culture that any translation to another language and culture will always be problematic. Sometimes the practice of T'ai Chi Ch'uan is presented as manipulating Chi. Sometimes Chi is translated as energy. The "energy" arguments from Chinese philosophy and mysticism are problematic in a translations that map onto precise modern physics terms and mathematical definitions. (Note that without such a mathematical context, even Newton's three laws are circular logic.) This translation issue is further complicated by the term "jin" that is also often translated as "energy," but also sometimes "strength," "power," "force," "spirit," or in other ways.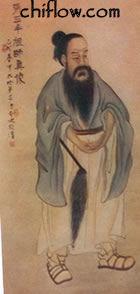 Some Chinese papers have been published reporting experiments that mapped the electric potential on the skin, linked this to acupuncture points and claim to have proved the existence of chi. This is not a compelling argument. The visualizations associated with chi that are used with the moving and standing meditation in the practice of Tai Chi also make for a poor definition of chi. (This is true even though standing meditation practice can provide a good practical idea of what chi is without really helping to define it.) Personally, I think that the dynamical system that follows the joint movements of the human body can be usefully thought of in Taichichuan practice as following stable and unstable trajectories, but it is doubtful that this would provide a definition of chi either. The definition of chi that I like at the moment is "the intention that connects the mind and the body, the physical and the nonphysical."
What is T'ai Chi Ch'uan?
In the right hands - Tai Chi Chuan is a martial art. As a martial art, T'ai Chi Ch'uan is one of the main styles of traditional Chinese kungfu. There are some "External" styles of kungfu - like Shaolin - that are built around developing speed and maximizing force. Other styles of kungfu are "Internal" and are built around a yoga-like approach to controlling how your mind and body respond to force and aggression from others. T'ai Chi Ch'uan, Baguazhang and Xingyiquan are internal or Neijia styles of kungfu. At an advanced age, famous Wu style T'ai Chi Ch'uan teacher Ma Yueh Liang was throwing "Masters" of various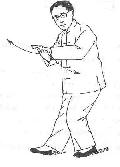 martial art styles all over the place while laughing. A teacher of any martial art (even if they are little old lady) should be able to leave no ambiguity that they are teaching a martial art.
Is T'ai Chi Ch'uan a health exercise?
Taichichuan has acquired a reputation as a health exercise. This was one of the features associated with Tai Chi Chuan at least since the first public practice of Tai Chi in 1911. Cheng Man Ching credited the study of Tai Chi Chuan with Yang Cheng Fu as helping him survive tuberculosis. The emphasis on balance and body structure make the moving joint yoga-like aspects of Taichichuan a reasonable choice of exercise for people with balance and joint problems. One of the best Wu style Taichichuan teachers of the last century was Ma Yueh Liang, who was a Western-trained medical doctor. Ma Yueh Liang's writings (say in the short section of "Wu style Taichichuan Push Hands") about Taijiquan's health benefits are worth reading. I am convinced Ma Yueh Liang's comments about the effect of Taichichuan practice on the sensory nervous system, blood pressure and other measurable parameters are apt. Ma Yueh Liang also compares his own hip X-ray with that of a typical person of his advanced age to support his claims about the health benefits of Taichichuan practice.
Whatever the potential health benefits of Taichichuan, it is my belief that they are almost nonexistent if the core of the practice of Taichichuan is turned into some New Age mumbo jumbo. The general failure to practice Internal kungfu in modern times is particularly bad in the practice of Taijiquan. The New Age version, "modified Yang style " or many other modern views of Taijiquan are completely divorced from the traditional martial arts practice that was associated with health benefits. Not every teacher needs to be equally proficient, but you should understand what you try to teach. It is my opinion that if you don't know the core of what you are doing then it is hard to see that anything that you think that you know is of value.